News & Updates
Matex News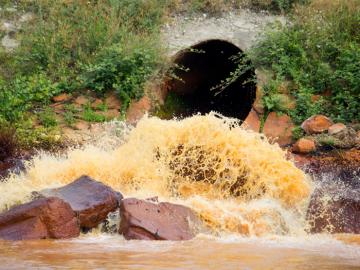 Revealed: hidden source of hazardous textile pollutants
MILAN – Large amounts of commodity chemicals used in the textile industry are contaminated with potentially hazardous substances such as APEO's, phthalates, chlorobenzene, toluene and other restricted chemicals – that routinely end up in wastewater.
These are the findings of a new study, commissioned by a leading global apparel brand, which showed how commonly used chemicals such as salts, soda ash, organic and inorganic acids, peroxide and caustic soda – which are often by-products of other industries – can be laced with potentially hazardous substances.
Although the safety of specialty textile dyes, pigments and auxiliaries has been under the microscope since Greenpeace launched its 'Detox' campaign, it now appears that a major cause of textile pollution has been overlooked.
Traded on the open market by dealers, and often repackaged under different trade names, these bulk commodity chemicals are often bought based on price only. With price being directly related to the purity of the product.
Reports of a new potential huge source of hazardous contaminants in textile wastewater will come as a shock to many apparel brands and retailers.
Although on the other hand, the identification of the problem could also help the textile sector to identify the unknown source of wastewater contaminants that has puzzled the industry for many years.
Already, the development of a new screening tool for commodity chemicals is one welcome outcome of this research, which aims to help textile mills to make better informed decisions on the type of commodities they source.
However, what this means for supply chain costs is another matter altogether.
A newly commissioned study by a leading global apparel brand has unearthed a new headache for the textile wet processing sector: the contamination of commodity chemicals with potentially hazardous substances that are restricted by many apparel brands and retailers.
These widely used chemicals make up the bulk of the substances discharged into wastewater after the dyeing and finishing process. According to the ZDHC wastewater treatment technologies publication, commodities could represent up to 90 per cent of chemicals found in the effluent.
"The main cause of concern being that up to 30 per cent of commodity chemicals used in the textile sector are recycled by-products of other industries," Ullhas Nimkar from Mumbai-based testing house Nimkartek told Ecotextile News. Although that figure could be far higher in certain regions. "Our studies on these commodities indicate they can be contaminated with the likes of APEO's, phthalates, chlorobenzene, toluene and other restricted substances."
Normally, commodity chemicals are presumed to be relatively clean – although they are screened for the presence of heavy metals. Crucially, nearly 100 per cent of commodity chemicals used in dyeing and finishing are discharged in wastewater since they are not needed on the fabric.
"These commodities are not covered by the 16 chemical 'groups of concern' identified by both Greenpeace (11 chemicals) and the ZDHC as priorities to phase out. Yet in our tests, as much of 60 – 70 per cent of commodities were found to have hazardous impurities – largely because they were already recycled from other industries and were not in their pure form," Nimkar told us.
Many of these chemicals used in textile wet processing are recycled by-products from other industries such as the petrochemical, pulp and paper and the pharmaceuticals sectors. Sold by third-party traders, it's been found that cheap, low-grades often come with hazardous contaminants associated with their industry of origin.
For example, most commodity chemicals used in the Indian textile industry are not virgin chemicals but usually by-products of other sectors. "Acetic acid which is used as a neutraliser is a by-product of Paracetamol synthesis and will contain impurities and remnants of the this reaction," he said.
One other area of concern is that no two batches of commodity chemicals are identical, said Nimkar, adding, "these chemicals are very low in product differentiation, and price is the dominant factor in purchasing decisions for the end users."
However, the revelation that this new class of process chemistry is a cause of concern for global textile supply chains is being seen by some brands as a positive. It could solve the puzzle of why some contaminants such as APEO's appear regularly in textile wastewater effluent when they are not found in any inputs. It could also mean that initiatives start to look more closely at commodities instead of further investigating other source of wastewater contaminations such as the breakdown of dye molecules – which could be a red herring.
Although most commonly used commodities include Glaubers salt, peroxides, caustic soda and various acids are screened for the presence of heavy metals, it's been wrongly presumed many of these substances are relatively pure. Essentially, the commodity chemical segment is a high-volume, low-margin segment, whereas the chemicals are never tested for impurities, said Nimkar.
Screening method
The good news for the industry is that as part of the testing project, Nimkartek has developed a new screening method to help textile mills identify commodity chemicals that are much safer to use.
The new 'In-Screen' method is designed for use by the textile and footwear sectors to detect the presence of 16 MRSL priority chemical groups in all input chemicals, including Commodity Chemicals, before they enter the supply chain.
"This technique makes use of multiple analytical tools such as spectroscopy and chromatography. The method is robust, validated and tested for its reproducibility," says Nimkar.
The screening system is also said to be cost effective at just US$100 per chemical.
"I feel this is a mystery solved," he noted, "there were so many unexplained analyses detected in waste water analyses and all these years I thought they were the breakdown products from dyes and finishing chemicals in the ETP (Effluent Treatment Plant). While this may be partly true, many of these impurities are from commodity chemicals."
As for a solution, it maybe not be too difficult in that the textile industry will need to shift to the use of higher-grade, even virgin-grade commodity chemicals instead of using recycled by-products. The industry will of course have to study the costs and how this will impact the price of the final product.
Despite the immediate concerns, Nimkar believes, "This will be a very positive development for the industry as it will take them several steps ahead in their goal to achieve zero discharge of hazardous chemicals," he concluded.
We'll have more news and reaction on this story as it develops further.
Source: Ecotextile